Below is a glossary of terms and phrases frequently used in the service application process. Scroll down to find the information you need. The order of the terms is matches the order on the service application form.
Duke Energy Customer or Builder Number:
If you have previously applied for service with Duke Energy, you were assigned a nine-digit number specifically for your account
Customer/Builder Name:
Please enter the name of your business
Mailing Address:
Location to which your bill should be mailed
Business Phone:
Number where you can be reached between the hours of 7 a.m. - 5 p.m.
Pager Number:
Number where you can be paged between the hours of 7 a.m. - 5 p.m.
Cell Phone:
Number where you can be reached between the hours of 7 a.m. - 5 p.m.
Email Address:
Address where we can send your confirmation between the hours of 7 a.m. - 6 p.m. Monday-Friday. Email confirmations are made within 48 hours of service application
Fax Number:
A fax number we can use, if necessary, between the hours of 7 a.m. - 6 p.m. Monday-Friday. We can send a fax response within 48 hours of service applications
Contact Name:
The site manager or superintendent
Form Completed By:
Name of person completing this request for service form
Service Address:
Enter a unique street address (911 address), DO NOT enter a Post Office Box or a route number. If in a subdivision, enter the lot number and subdivision name in the appropriate box
Lot Number:
Number of lot in a development
Subdivision Name:
Name of subdivision
City/State/ZIP:
City, state and ZIP code of the service address
Inside City Limits:
Indicate if the service address is inside or outside the city limits
County:
Name of the county in which the service address is located
Directions to Site:
Directions should be given from a main road or major highway to the service address
Site Visit:
When a Duke Energy representative visits the planned site (e.g., mobile home, area light, house, or etc.) to determine the type of construction needed to adequately provide electrical service to a customer.
Service Types:
Temporary Service - This service type may sometimes be referred to as "saw service." Temporary electric service is used to run power tools and provide lighting for construction. Before Duke Energy may install a temporary service line, the builder must install a temporary service pole with an approved meter base, a weatherproof switch box and ground wire, and the work must pass required local inspections.
Permanent Service - The service is said to be permanent when the meter is set on the structure, after underground or overhead lines have been installed, required electrical inspections have been completed and approved, and Duke Energy has been notified.
Run Underground Service Only - Builder may apply for underground service to be run to the structure without applying for a meter to be set at the location.
Construction:
Does Duke Energy need to run lines from transformer to dwelling?
Line Type:
Overhead is when lines are run from pole to pole and underground is when lines are run under ground to a green transformer box. See below: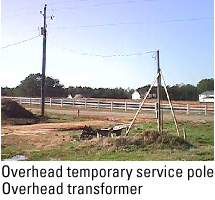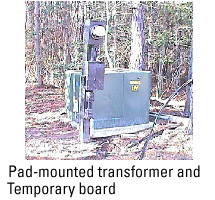 Underground Temporary Service - Underground temporary service is installed within five feet of nearest Duke Energy pedestal, cable marker or underground pad mounted transformer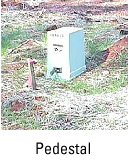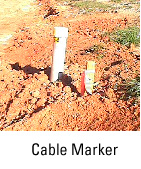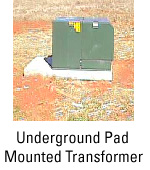 Overhead Temporary Service - Overhead Temporary Service is installed within 100 feet of nearest Duke Energy transformer, not crossing a street or other structure.
Construction Date:
Date you will be ready for Duke Energy to begin construction. Duke Energy will contact you to confirm the date.
Final Inspection:
Inspection has been completed by the local city/county inspection department for temporary or permanent service.
Date Temporary Service Needed:
Indicate the date you will have your pole installed and/or any inspections completed. The meter will be installed the next business day once the inspection has been received and construction completed if required.
Remove Temporary Service:
Please indicate if you would like for Duke Energy to remove the temporary service once the permanent meter has been installed on the structure. There will be occasions, even when you ask that the temporary service remain in place, that Duke Energy must remove the temporary service in order to run the permanent service to the structure.

ROW Clear:
A 10-foot wide path clear for underground service to be run.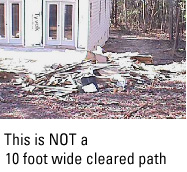 Meter Base Up:
A metal box located on the outside of your home or business, where the electric meter is mounted.
Final Grade:
No more dirt will be added or moved from the site.
Structure Type:
The structure a home, apartment, condo, townhouse or manufactured home.
Square Footage of Home:
Total square footage of the home.
Primary Heating System:
Type of heat used in the home. If multiple sources, indicate the main source only.
Primary Air Type:
Type of cooling system used in the home. If multiple sources, indicate the main source only.
Water Heater Type:
Type of water heater and the size in gallons of that unit.
Type of Cooking:
Indicate the source used for cooking
Type of Clothes Drying:
Indicate the source used for drying clothes.