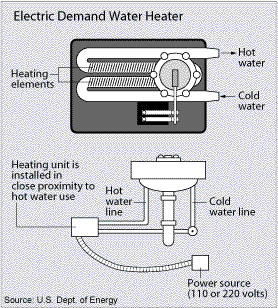 Background
Most people in North America currently use a storage tank water heater to provide hot water in their homes. A storage tank water heater keeps water hot 24 hours a day, even while you're at work or sleeping.
A tankless water heater (or "demand" water heater), on the other hand, does not store hot water. It heats the water as you use it. Tankless water heaters come in a variety of sizes for different applications and are available in propane (LP), natural gas, or electric models.
"But, did you know?"
Tankless water heaters require a great amount of energy to heat water quickly (typically from 12 kW to 28 kW depending on the type of unit installed). Duke Energy Progress has seen an increase in usage of these units and it is important to understand how this type of equipment impacts your electric system.

The new load of a tankless water heater can sometimes equal the load of an entire new home!

Duke Energy Progress designs your neighborhood electrical system to meet the electrical needs of a typical residential neighborhood. However, if a customer installs a tankless water heater, the increased electric demand may exceed the design specifications of the system and require an upgrade of the cable and transformer. Utility regulations specify the method by which the additional cost for the system upgrades (called "Contribution in Aid of Construction") will be charged directly to the customer. If a customer installs a tankless water heater, the customer is required by approved tariff in both the Carolinas and Florida to pay the full cost to upgrade their facilities (including cable and transformer) to meet the need

Customers complaining about a voltage fluctuation or flickering lights may be seeing the impact of a tankless water heater in their neighborhood. It is important to note that this voltage fluctuation may be noticed by other customers in addition to the customer with the tankless water heater – since several customers often share a single transformer. An investigation of all customers on the transformer may be necessary to determine the source of the problem. If voltage problems exist because of a tankless water heater and a facility upgrade is necessary, the customer is required to pay the full cost to upgrade prior to construction.