Electricity – it's a service that most of us can't live without. It powers our homes, our businesses, our lives. And while it may not seem like it when you get your bill, electricity is also a great value.
It's a commodity that Duke Energy Progress provides 24 hours a day, seven days a week, and we work hard to ensure that it's always available when you need it. Most people don't think about the value of their electricity until the power goes out. And with a reliability rate of 99.97 percent, our customers don't have to think about it often.
Value of a dollar
But let's consider for a moment what a dollar gets you when it comes to your electric service: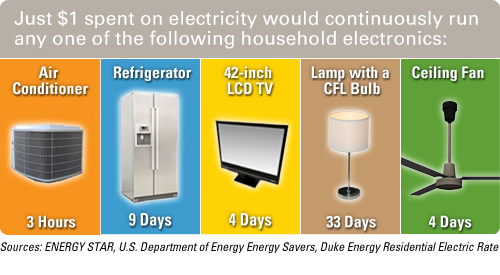 Cost increases over the past 20 years
And those costs have remained lower over time than many of the other goods and services you use every day: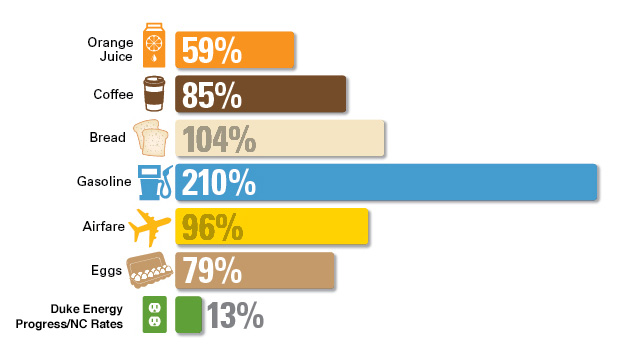 Since our last general rate increase in 1987:
Duke Energy Progress has added 600,000 new customers, a 66 percent increase. Most of that growth has been among residential customers.
Total annual energy use has increased 59 percent, from 27 million megawatt-hours (MWh) to 43.6 million MWh in 2011.
Average home size has increased 56 percent, and today's homes are overflowing with electronic devices that didn't even exist in 1987.
The average home uses more kilowatt hours (kWh) each month (1,200 kWh average monthly consumption), despite homes and appliances becoming significantly more efficient.
Duke Energy Progress has invested nearly $11 billion in new plants, power lines and other facilities to service its customers, including cleaner-burning natural gas-fueled technology.
A lot has changed over the last 25 years, and our costs of providing reliable service have increased significantly during that time. While we work very hard to manage our business and keep rates as low as possible, there are times when it is necessary to raise customer rates to make the necessary investments to ensure continued reliability of service, and to maintain the value of electricity that you have come to expect from us every day.