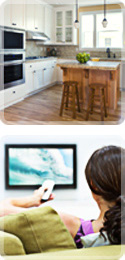 Protect your major appliances from dangerous power surges
Our Surge Protection Service works at the meter to help block surges before they reach your home's interior wiring, providing enhanced protection for your major appliances.
Easy installation - appointments typically not necessary
Free grounding inspection and repairs
Helps provide excellent protection for major appliances, including your refrigerator, HVAC, washer and dryer.
Additional protection available for computers, TV and other electronics
Just $6.99/month* - conveniently added to your bill with a one-time installation fee of $44.95*
ENROLL Or call us 800.880.5603
*Does not include applicable sales tax
Surge Protection is not part of the regulated utility services offered by Duke Energy Progress ("DEP") and is not in any way sanctioned by the North Carolina Utilities Commission or the Public Service Commission of South Carolina. Purchasers of this product will receive no preference or special treatment from DEP. A customer does not have to buy this product or service in order to receive the same safe and reliable electric service from DEP. This services may also be available from other non-Affiliated suppliers. THIS MESSAGE IS PAID FOR BY THE SHAREHOLDERS OF DUKE ENERGY.