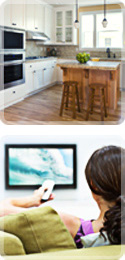 Protect your major appliances from dangerous power surges
Our Surge Protection Service works at the meter to help block surges before they reach your home's interior wiring, providing enhanced protection for your major appliances.
Easy installation - appointments typically not necessary
Free grounding inspection and repairs
Helps provide excellent protection for major appliances, including your refrigerator, HVAC, washer and dryer.
Additional protection available for computers, TV and other electronics
Just $6.99/month* - conveniently added to your bill with a one-time installation fee of $44.95*
ENROLL Or call us 800.880.5603
*Does not include applicable sales tax
Exclusions and limitations apply. See terms and conditions for details. Surge Protection, HomeWIRE and HomeWIRE Deluxe coverage are administered by Duke Energy located at 550 South Tryon Street Charlotte, NC 28202 and provided by TWG Home Warranty Services, Inc. located at 175 W Jackson Blvd. Chicago, IL 60604.
Surge Protection Service is not regulated or sanctioned by the North Carolina Utilities Commission or the South Carolina Public Service Commission. Customers who purchase Surge Protection Service will not receive preferential or special treatment from Duke Energy Progress and customers are not required to buy it in order to continue to receive safe, reliable electric service from Duke Energy Progress. NC Lic # 26317/04-U, SC Lic # M96950.
DEP offers optional, market-based products and services that are separate from the regulated services provided by DEP. These services are not regulated by the North Carolina Utilities Commission or the Public Service Commission of South Carolina. These products and services may be available from other competitive sources.