Report outages at one of the following numbers:
in the Carolinas: 800.419.6356
in Florida: 800.228.8485
Diagram below illustrates the major components of the system used to deliver electricity to homes and businesses. It also provides the order of restoration priority after major storms. In general, Duke Energy Progress focuses on the largest facilities first, in an effort to restore service to as many people as quickly as possible.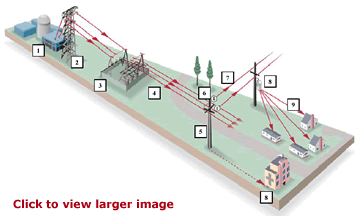 From left to right (1) generation sources (power plants) and (2) transmission lines, (3) the transmission-to-distribution substation (where voltage is lowered), (4) distribution feeder (which might serve some facilities directly), (5) power pole (showing underground services to hospital), (6) fuse (designated by 'S'), (7) tap line (the type of line that runs along the streets of neighborhoods), (8) pole-top or pad-mount transformer (for reducing service voltage to individual households and businesses), and (9) service lines to individual homes.