Upgrade your HVAC. Get $600.

Is it time to replace your old, worn-out heating and cooling system? If your heating and cooling equipment is more than 10 years old or isn't making your home as comfortable as you'd like, consider installing a high-efficiency system. It will help:
Make your home more comfortable
Reduce your energy usage and carbon footprint
Save you money for years to come
And the best part? If your new equipment meets our eligibility requirements, you could get a $600 rebate!
Switching to a more energy-efficient system can save you big.
You might be surprised at which areas of your home use the most energy. Heating and cooling use the most energy in an average household – more than 40 percent of your monthly bill comes from the energy needed to heat and cool your home.
Installing an energy-efficient heat pump can save you up to $300 on your heating and cooling costs each year.
This chart illustrates how much you can save when you install a new HVAC system that uses less energy to heat and cool your home. A SEER number is an energy efficiency rating. The higher the number, the less energy the system needs to use to make your home comfortable. And the benefits add up!
These figures represent the expected overall performance of the unit for a year, based on average weather and location. Annual operating cost based on 3 ton heat pump and .10 kilowatt-hours. Average cooling degree days based on Charlotte, North Carolina, from 2009 - 2013. Operating cost vary depending on climate conditions, home characteristics, energy rates and usage patterns.
Eligibility requirements
This program is available to Duke Energy residential electric service customers residing in single-family homes, condominiums, mobile homes, townhomes and duplexes.
Additionally, all application and supporting documentation must be successfully submitted and approved within 90 days of date of service after April 16, 2016 for North Carolina customers and approved within 90 days of date of service after April 20, 2016 for South Carolina customers.
How it works:
STEP TWO:
Upgrade
The contractor will install your new high-efficiency heating and cooling equipment.
STEP THREE:
Get $600
And now, the best part. Your contractor completes and submits your application and your cash rebate arrives in your mailbox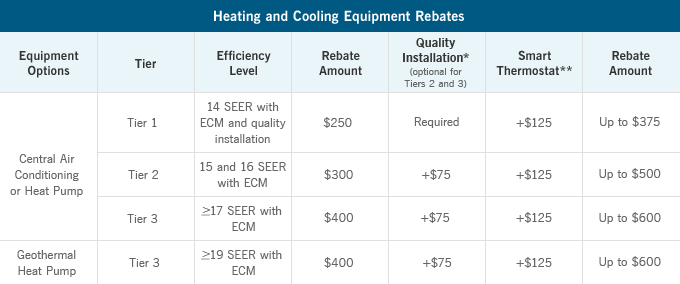 *On qualified HVAC replacement, a quality install checklist much be performed to ensure 90 percent net capacity has been achieved at time of installation as rated by AHRI.
**Qualified product much be purchased through a participating contractor, installed and programmed through customer's home Wi-Fi network at time of equipment installation.
Frequently asked questions
How do I know if I'm eligible?
To be eligible, you must be a Duke Energy Progress customer, and your new equipment must be installed by one of our participating contractors. Also, your equipment must meet the SEER/EER requirements listed in the table above.
The program is open to residential customers in single-family and manufactured homes that are at least 1 year old.
What is a SEER/EER?
The Seasonal Energy Efficiency Ratio (SEER) and Energy Efficiency Ratio (EER) both are rating systems to measure the efficiency of your heat pump or air conditioner when it cools your home. The higher the number, the less energy the system uses. Make sure the unit you purchase has a SEER/EER rating certified by the Air Conditioning, Heating, and Refrigeration Institute (AHRI).
What is an HSPF?
HSPF The Heating Seasonal Performance Factor (HSPF) is an energy efficiency rating for heat pumps. The higher the number, the less energy the system uses in winter heating. Make sure the unit you purchase has an HSPF rating certified by the Air Conditioning, Heating and Refrigeration Institute.
What is an ECM fan motor?
The electric fan in your indoor unit is responsible for a good portion of your electric heating costs. Older, standard fans use much more energy than new energy-efficient electronically commutative motor (ECM) fans. Sometimes called a "variable speed" fan, an ECM fan also offers many other features for added comfort in your home. An ECM fan on your indoor unit is required for each qualifying air conditioner or heat pump.
How do I apply for a HVAC replacement incentive?
After the participating contractor competes the work, he or she will fill out and submit the rebate form, along with any required documentation. Once we receive it, you will get your cash rebate in the mail.
What types of residential HVAC systems qualify for the HEIP incentive?
What is a participating contractor?
Each participating contractor is a local heating and cooling professional who has met Duke Energy Progress requirements. Only these participating contractors are approved to perform work eligible for Duke Energy Progress Home Energy Improvement Program rebates. After the participating contractor completes the work, he or she will submit the rebate form" to receive your cash incentive.
Why does Duke Energy want to help me use less energy?
By 2030, demand for electricity in the United States is expected to grow by approximately 25 percent. In the past, utilities like Duke Energy would build new power plants to keep up with the rising demand for power.
But building new power plants is expensive, and each takes years to complete. Plus, new power plants can have a negative impact on our environment.
The cleanest, most efficient power plant is the one we never have to build. If we can help our customers save energy – and save money in the process – it can reduce the demand for new power plants.
Duke Energy reserves the right to revise program requirements and incentive levels at any time. Incentives are subject to availability. For questions not addressed on the website, call 866.785.6209.