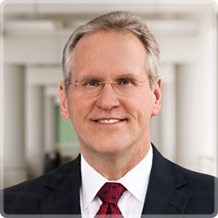 This 2012 Corporate Responsibility Report is Progress Energy's annual overview of what we're doing to achieve the high standards we have set for how we conduct our business. Meeting, or exceeding, these expectations requires a relentless daily focus in this complex, demanding industry and so many customers and communities depend on us to get it right.
The electric utility industry today is characterized by increasing change and ambiguity. There is an expanding menu of emerging technologies. Public policies and government regulations are in flux. Long-term economic and consumer trends are uncertain.
What remains clear is Progress Energy's strong commitment to the customers and communities we serve, to the environment we all want to protect and to our employees and shareholders, who make this enterprise possible.
Our mission is to provide reliable, affordable electric service in a safe, clean and sustainable way. We are dedicated to integrity, credibility and excellent performance and we're committed to being a company that elicits pride among our employees, confidence among our investors and trust within the communities we're privileged to serve.
We hope this report gives you greater insight into Progress Energy's business practices and the future we are building.
William D. Johnson
Chairman, President and CEO
May 2012