Progress Energy (NYSE: PGN), headquartered in Raleigh, N.C., is a Fortune 500 energy company with more than 23,000 megawatts (MW) of generation capacity. Our company has two regulated, integrated electric utilities that serve about 3.1 million customers in North Carolina, South Carolina and Florida..
Company Facts
Nearly 11,000 employees
Approximately $9 billion in annual revenues
Progress Energy Carolinas (PEC) service territory covers more than 34,000 square miles and more than 70,000 miles of transmission and distribution lines.
Progress Energy Florida (PEF) encompasses more than 20,000 square miles and more than 49,000 miles of lines.
Named to the Dow Jones Sustainability North America Index (DJSI North America) for seven consecutive years.
Generation Mix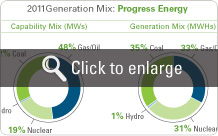 We safely generate reliable and affordable electricity from a diverse fuel and technology portfolio, including nuclear, coal, gas, oil and hydroelectric power, at 32 sites in the Carolinas and Florida; we also purchase energy produced by renewable sources in the region. Our installed generation capacity includes 48 percent natural gas and oil, 32 percent coal, 19 percent nuclear and 1 percent hydro¬electric. This fuel diversity enables the company to minimize cost volatility or market constraints related to any one fuel source and it ensures reliable power for our residential, commercial, industrial and wholesale customers.
In 2011, our energy mix (what our plants actually produced) was 35 percent from coal, 33 percent from gas and oil, 31 percent from nuclear and 1 percent from our hydroelectric plants. We also purchased about 2.87 million megawatt-hours of renewable energy from local producers in our service territory.
Proposed merger with Duke Energy

On Jan. 10, 2011, Progress Energy and Duke Energy announced plans to merge in a stock-for-stock transaction unanimously approved by both companies' boards of directors. Shareholders of both companies also approved the proposed merger on Aug. 23, 2011.
The merged company will have an enterprise value of about $65 billion, a regulated customer base of more than 7 million, and will be well positioned to meet future energy challenges.
The Federal Energy Regulatory Commission (FERC) gave conditional approval Sept. 30, 2011, subject to mitigation of concerns about the merged company's potential wholesale market power in the Carolinas.
On March 26, 2012, the companies filed a revised wholesale market power mitigation plan with the FERC. At this time, the companies are awaiting the agency's decision. The merger is also subject to approvals by the North Carolina and South Carolina utility commissions, and other legal conditions prior to closing.
Regulatory oversight

Under state and federal rules, Progress Energy and its two utilities must provide reliable electrical service to meet the demand of our customers. Regulatory bodies in each of the states served by PEC and PEF – including the Florida Public Service Commission, the North Carolina Utilities Commission and the Public Service Commission of South Carolina – oversee and approve new energy-efficiency programs, renewable energy purchases, new rates or tariffs and annual fuel costs. Progress Energy works with consumer advocates, including the Florida Office of Public Counsel, N.C. Utilities Commission Public Staff and S.C. Office of Regulatory Staff, to ensure that customer interests are protected in regulatory actions.
The FERC regulates wholesale electric costs, interstate transmission service and reliability standards. In addition, the Nuclear Regulatory Commission and other federal regulatory agencies provide oversight of company operations.