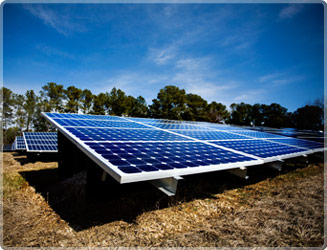 Progress Energy purchases electricity from this 75-kW solar photovoltaic (PV) array at the PNC Arena in Raleigh, N.C.
A key part of our balanced strategy to meet anticipated demand growth from our customers is investing in renewable and alternative energy resources.
Progress Energy is partnering with organizations throughout our service territory to develop solar, wind, biomass, hydrogen and other renewable technologies. In 2011, we more than doubled our 2010 renewable purchases by securing 2.87 million MWh from renewable energy sources in the Carolinas and Florida.
We are also committed to offering our customers programs that help reduce their personal environmental impact and advance renewable energy technology development. Our programs offer customers:
The option to contribute toward renewable energy through state-specific green power programs;
Incentives needed to make private solar photovoltaic (PV) and solar hot water projects cost-effective;
The opportunity to help install solar panels at local schools; and
The chance to participate in solar hot water research studies.
These programs and our other renewable energy activities are discussed further in the Environment Chapter of this report.