Carolinas

We are planning to retire 11 coal-fired units, totaling nearly 1,500 MW, at four sites in North Carolina by 2014. These units are our remaining coal-fired power plants in the state that do not have flue-gas desulfurization controls (scrubbers), and represent about 30 percent of the company's coal-fired power generation fleet in North Carolina. In addition to the 170-MW W.H. Weatherspoon Plant, which was retired in 2011, we plan to retire the:
• 575-MW L.V. Sutton Plant near Wilmington;
• 316-MW Cape Fear Plant near Moncure; and
• 382-MW H.F. Lee Plant near Goldsboro.
We must replace this generation to ensure continued reliable electric service; therefore, we are building two new, state-of-the-art, natural gas-fueled combined-cycle power plants. These will be a 950-MW plant at the Lee Energy Complex, and a 625-MW plant at the Sutton Energy Complex. We broke ground on both projects in 2011 and expect both to come online in 2013.
In 2011, the company added a 600-MW natural gas-fired combined-cycle plant at its Sherwood H. Smith, Jr., Energy Complex in Hamlet, N.C., increasing the site's generating capacity to 1,890 MW, and making it Progress Energy Carolinas' second-largest electricity-producing station.
Due to our fleet modernization strategy, by 2014 we will have added almost 2,200 MW of cleaner-burning gas capacity for our customers in the Carolinas.
This fleet modernization plan has many benefits, including:
Cleaner air through significant emission reductions, including carbon dioxide, sulfur dioxide, nitrogen oxides, mercury and other pollutants;
Efficient combined-cycle technology, which produces more electricity using the same amount of fuel;
More than $2 billion in direct investment in Wayne, New Hanover and Richmond counties;
Thousands of construction jobs; and
Significant additional economic development potential from the new natural gas pipelines being built in Eastern North Carolina.

The coal-fired Lee Plant near Goldsboro, N.C. (left), will be replaced with a new natural gas plant,
currently under construction (right).
Florida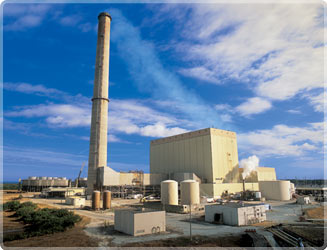 Converting the Anclote Plant in Holiday, Fla., to 100 percent natural gas will dramatically reduce emissions.
Progress Energy Florida completed the repowering of our Bartow Plant in St. Petersburg in 2009. This two-year, $800 million investment changed the 50-year-old facility's primary fuel source from fuel oil to more efficient, cleaner-burning natural gas. The project included the installation of a natural gas-burning, combined-cycle unit featuring four combustion turbines and one steam turbine.
The completed Bartow project helps provide electricity in a cost-effective manner and has already delivered a number of benefits, including:
Nearly tripling the site's generating capacity, to about 1,200 MW;
Significantly reducing emissions by more than 80 percent – including a 98 percent reduction of sulfur dioxide emissions by using efficient combined-cycle technology;
Reducing dependence on foreign oil and improving fuel security; and
Increasing electricity reliability due to transmission upgrades related to the repowered plant.
In March 2012, we announced plans to convert the Anclote Plant, located in Holiday, to 100 percent natural gas. We anticipate the conversion, which will reduce sulfur dioxide emissions by more than 99 percent, will be complete by the end of 2013.
We continue to evaluate additional fleet-modernization initiatives in Florida.