Progress Energy delivered a 36.4 percent total return to shareholders in 2011 (dividend plus stock-price appreciation for the 12 months). Over the past 10 years, Progress Energy has achieved an annual total shareholder return of 8 percent, well above the 2.9 percent achieved by the S&P 500. We have also maintained our long record of commitment to the dividend, providing more than 260 consecutive quarters of dividend payments to shareholders.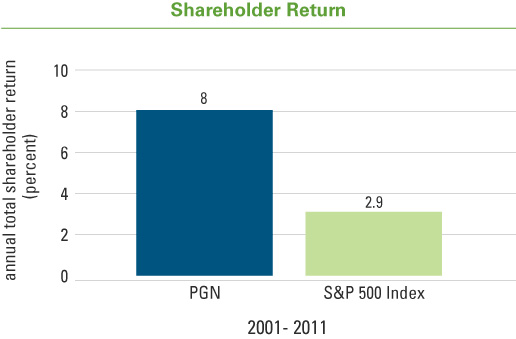 We have a strong track record of meeting our financial commitments. We have maintained liquidity and financial stability and sustained our dividend rate despite continued challenges in the economy. We have also maintained our fiscal discipline as we worked toward our planned merger with Duke Energy.
That track record is a product of our focus on fundamentals:
safety
operational excellence
customer service
consistent achievment of our financial objectives
constructive relations with regulators, political leaders and the public
strong leadership that fully engages our workforce for high performance
In addition to excelling in these fundamentals, our company has the following four focus areas for 2012:
Improve the performance of our nuclear fleet
Accelerate Continuous Business Excellence
Optimize our balanced solution strategy to meet future energy needs with a combination of energy efficiency, renewable energy and a state-of-the-art power system
Achieve effective integration planning and timely merger approvals
Additional investor information can be found at progress-energy.com/investor.