More than 400,000 Duke Energy customers have found that EnergyWise Home is a free, easy way to make a positive energy impact while getting up to $147 a year in bill credits. Unlike energy-saving measures in your own home, EnergyWise Home works across the community to lower energy usage during occasional periods when energy demand is unusually high.
Watch the short video below to see how it works: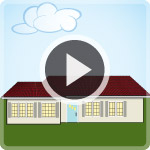 See how EnergyWise Home
helps our community use
energy more wisely.
Benefits
As an EnergyWise Home participant, you'll enjoy the following benefits:
Automatic credits on your bill – up to $147 per year
Free
No long-term commitment
To get started, call 877.574.0341 Mon. – Fri., 8 a.m. – 6 p.m., or use this online form.